Best Duplicate MP3 Finder Tool Ever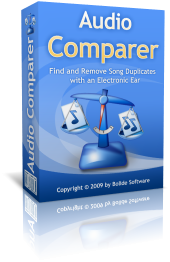 Audio Comparer ™ is a Windows application for MP3, MP2, MP1, WMA, AIF, WAV, WavPack>, FLAC, APE, AAC, and OGG audio files comparison. The program's main goal is to find duplicate audio files and sort them in whatever way you want. However Audio Comparer is not your usual program, in fact we believe it's the best MP3 comparison tool available. Read on to see why.
FREE DOWNLOAD
(installation file for Windows XP/Vista/7/8)
Why is Audio Comparer better than other duplicate MP3 finders?
The main difference between Audio Comparer and other duplicate MP3 finders is the fact that Audio Comparer "listens" to your audio files and compares them by their actual audio content, just like your own human ears do. However, it's much faster, and never forgets a sound once it is heard. This enables Audio Comparer to recognize the sound of the file regardless of its codec or bit rate. Contrast this technology with other MP3 comparison tools that just look at MP3 file tags or even crude file size to locate duplicate files and can't identify similar audio files at all.
How does Audio Comparer™ work?
Audio Comparer listens to your entire music collection, in all formats, and remembers it all. The set of audio files is named "audio group" in the program. You can make your entire collection into one audio group or divide it into several groups. The "listening" process is very fast, Audio Comparer spends approximately just 1 second per MP3 file to listen and remember it; It is much faster than you can do it manually! When an audio group is formed, you may make a comparison within this group or compare it with another group. The audio comparison process is even faster and you'll get the comparison results in seconds. Once the audio comparison is done, Audio Comparer will display the results in a tree. Each nested branch is an audio file with a similarity degree within the parent branch file. You can mark files as you want and batch copy, move or delete them. This makes it easy to find and remove duplicate MP3, WMA, APE, AAC or OGG files.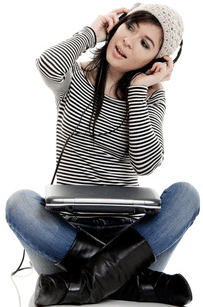 Why do you need to use Audio Comparer™ as a duplicate MP3 finder?
Got duplicates in your iTunes library? Audio Comparer will find and remove duplicates from your iTunes collection automatically.
If your digital music collection contains different audio formats and encoding bitrates then you definitely need a good comparison tool. They don't come better than Audio Comparer!
If you have MP3, WMA or OGG files without tags, Audio Comparer is the only tool which can help you remove audio duplicates, meaning you keep just the very best ones. If you have a very large music collection it is hard and frustrating to find duplicates manually; let Audio Comparer help you. It's much quicker and you don't risk deleting the wrong files.
If you run a broadcasting station, you definitely need to use Audio Comparer to avoid misnamed but otherwise similar audio files being mistakenly played at inappropriate times. Of course this is just as important to you if "only" making a CD album for your private use.
Find duplicate MP3 files with ease!
Audio Comparer is made with the same "observing" technology that was developed for our award-winning duplicate image finder tool. Now this level of technological magic is available for your home music collection at an affordable price!
Audio Comparer is a truly multilingual application with full Unicode fonts support. Currently available languages are: English, Czech, French, German, Italiano, Macedonian, Russian, Turkish.
Just give our duplicate mp3 remover a try today!
System requirements
Audio Comparer will run on any PC from Windows 2000 to Windows 8. The technology requires surprisingly little memory but thrives with faster CPUs, especially multicore.
FREE DOWNLOAD
(installation file for Windows XP/Vista/7/8)
Limitation
Delete, Move and Copy file operations are disabled in the 30 day trial version. Get a license to activate these features.
Sound recognition currently only works for songs more than 90 seconds long.
Special Offers
For bloggers! Post an Audio Comparer review to your blog and get a license for free or at reduced price.