Duplicate MP3 Finder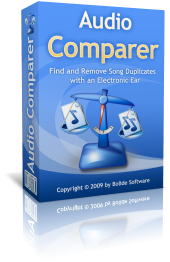 Audio Comparer is a tool that can help you find and remove duplicate songs. It can scan your collection and identify duplicate songs based on their audio content. This means that even if two songs have different file names or are in different formats, Audio Comparer can still identify them as duplicates.
Once Audio Comparer has found the duplicate songs in your collection, you can then choose to delete them or move them to a different location. This can help you declutter your music collection and free up space on your hard drive.
The Audio Comparer Lets You:
Find and remove duplicate MP3 files automatically
Identify duplicate music regardless of the format or missing tags
Root out files that have been misnamed
Organize files into trees based on audio similarity level
Create audio groups for refined analysis
Download and get rid of duplicate songs right now!
FREE DOWNLOAD
For Windows XP/Vista/7/8/10/11
There are a few ways that you can find duplicate songs on your computer. You can search for duplicate songs manually. This can be done by opening up your music folder and looking for files that have the same name or are the same size. Alternatively, Audio Comparer can listen to all your music spending less than a second per song, remember their actual sounding, and locate duplicates and similar songs spending some more seconds.
Audio Comparer features unique duplicate recognition technology
Able to work with MP3, MP2, MP1, WMA, AIF, WAV, WavPack, FLAC, APE, AAC, and OGG audio files, the Audio Comparer offers unprecedented file comparison abilities. Unlike the other duplicate MP3 finders that are designed to scan for tags or file size, the Audio Comparer actually "listens" to the songs themselves, analyzing and recognizing them based on their sounds – just like the human ear. No matter what codec or bitrate your files are saved as, the AC can identify the duplicates.
How does it work?
Audio Comparer begins by listening to your entire music collection; every format; and remembers it all. You can choose to have AC view your files as one big audio collection, or you can divide your music content into smaller audio groups. In fact, it takes only a second or two to "listen" to an entire MP3 file! Equally quick is the audio comparison process; you'll begin to see results within seconds. The results will be displayed in a tree layout, with branches connecting files based on the degree of similarity within each parent branch.
Practical applications for the Audio Comparer:
Have duplicates in your iTunes library? Audio Comparer can find and remove them automatically.
Does your collection include plenty of different audio formats, codecs, and bitrates? Audio Comparer can sort it all out.
Do you have audio files with missing tags? Audio Comparer is the only tool capable of identifying and removing tag-less duplicate audio files.
Operate a broadcasting station? Produce a podcast? Avoid accidentally playing misnamed audio files at inappropriate times.
Feeling like your collection takes up too much space on your hard drive? Audio Comparer will help you get things under control in no time at all.
Try it before you buy it
Equipped with the same award-winning "fingerprinting" technology as our duplicate image finder tool, the Audio Comparer is the only app you'll ever need to search for duplicate MP3 files. See for yourself how amazing this utility can be through our 30-day free trial version. There are a few limitations; you will not be able to copy, move or delete found duplicate files using the trial version, but you'll get a firsthand look at how the program works. You can activate its full potential at any time by purchasing a license. You may also check the Video Comparer tool. It uses content fingerprinting technology too!
User about Audio Comparer
Audio Comparer
-
top-notch program
"Greetings! I am so delighted with your top-notch program, that everyone I tell about it also starts using it and enjoys it immediately!!! It is really very professionally made and is a great assistant for any music lover!!! Thank you for that program! Way to go!!!"
Brian Torres
- Rating:
5.0
,
Special Offers
Are you a blogger? Post an Audio Comparer review to your blog, and we'll provide you with a license for free!
Get the best Duplicate MP3 Finder
There are numerous reasons you might want to find duplicate MP3 files on your computer. Maybe you have a huge music collection, and you want to clean it up, or perhaps you just want to free up some space on your hard drive. Either way, you'll need a good duplicate MP3 finder to help you out.
There are a lot of different duplicate MP3 finders out there, but not all of them are created equal. Some are very basic and only find exact duplicates, while others are more sophisticated and can find similar files even if they're not exact copies.
When you're choosing a duplicate MP3 finder, it's important to pick one that's right for your needs. If you have a large music collection, you'll want a more powerful program that can find duplicates, even if they're not exact copies. On the other hand, if you just want to clean up a few duplicate files, a simpler program will suffice.
Whatever your needs, there's a duplicate MP3 finder out there that's right for you. Download Audio Comparer now, and be sure that you found the perfect program to help you clean up your music collection.